The Fol-Da-Tank 1000 Gallon Steel Folding Frame Collapsible Tanks - with pinch free design - are portable water tanks are designed for rural areas where water is difficult to supply. FOL-DA-TANK collapsible tanks double the firefighting capability at the fire scene. New Hinge Protector (patent pending) helps prevent pinching of hands and fingers when folding the tank. The hinge protectors are a standard feature on all folding framed tanks. Another standard feature are grab handles that are placed on the side wall of the liner. The grab handles help the firefighter pick up the liner when folding. Hinge protectors and grab handles are also sold separately as add on kits. (NFPA 1142 Compliant, GSA Approved)
Features
1. "Easy Lift Handles" - Side wall mounted handles helps the firefighter to pick up the liner when closing the tank. Grab handle kits are also available for existing tanks.
2. Hinge Protectors - Patented "pinch free" design prevents the firefighter from pinching their hands when opening and closing the folding frame
3. Heavy Duty Floor Design - When ordering a 22 oz. Vinyl or HPR tank you can get an optional 30 oz. floor at no extra charge. Specify when ordering.
4. Quick Release Drains (a-d). - Placed on the inside of the tank so water pressure will seal off the drain sleeve. With pull strap for emptying the tank. More streamed lined for better traffic flow.
5. Frame - Steel standard 7/8" OD 14 gauge tubing
6. Liners - 17 oz. and 22 oz. HPR (High Performance Rubber), 22 oz. and 30 oz. Vinyl
It was more than 57 years ago that the first Fol-Da-Tank was introduced to firefighters, who recognized its value and quality immediately. In fact, the quality was so good many of these original models are still on the job, performing like new. Two men can unload the Fol-Da-Tank from the truck and set up in less than 30 seconds. While the pumper empties the Fol-Da-Tank a tanker can be bringing more water. Fol-Da-Tank has proved to be the practical answer as an extra water supply for rural areas where water pressure is low or as a back-up facility for municipal fire departments. Fol-Da-Tanks come standard with grab handles and hinge protectors pinch free design (U.S. patent #7,938,291, Canadian patent #2624553) to help firefighters when folding the tank. Grab handles can be placed on the bottom side walls or floor of the liner to eliminate any snaging of Low-Level strainers or hose. Fol-Da-Tanks are a great resource for oil spill containment and oil spill clean up.
Constructions Features:
New rugged HPR High Performance Rubber (replaced hypalon), 22 oz. or 30 oz. Vinyl
Solid brass grommets
Closely spaced grommets to prevent the liner from sagging
Hinge protectors pinch free design
Liner pick up grab handles (NEW & IMPROVED)
Liner Fabrics:
The most reliable fabrics to choose from.
17 oz. HPR High Performance Rubber - Red or Yellow
22 oz. HPR High Performance Rubber - Red or Yellow
22 oz. Vinyl - Red, Yellow, Blue or Orange
30 oz. Vinyl - Red, Yellow, Black or Orange
HPR is a formulated fabric made specifically for Fol-Da-Tank Company with proprietary rights. Unlike other company's that put a fancy trademark name on an existing fabric. Fol-Da-Tank has tested the New HPR fabric in the cold climates of Alaska to the extreme hot desert of the Middle East for over 5 years. HPR (High Performance Rubber) has been designed with UV, heat and puncture resistance, along with abrasion and cold cracking (-60 degrees F) qualities. Fol-Da-Tank Company guarantees this fabric with a "LIFETIME WARRANTY" on the hot air or R.F. (Dielectric Radio Frequency) heat sealed seams! The HPR formulation allows Fol-Da-Tank to offer the best fabric on the market today. HPR is used in our standard folding frame tanks, our flexible pillow style tanks, self-supporting onion style tanks and secondary containment berms. The possiblities are endless! When choosing the superior liner fabric Fol-Da-Tank Company offers the versatile HPR fabric for all your liquid containment needs!
Steel frame
7/8" o.d. round tube, 14 gauge wall structural steel with snag free finish
Die cut, heavy duty gauge hinges with heavy duty bolts
Available Colors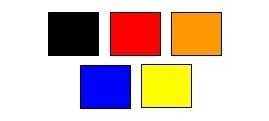 Detailed Information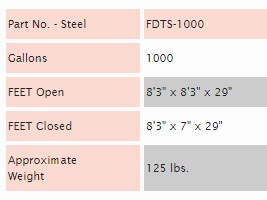 Tank Handles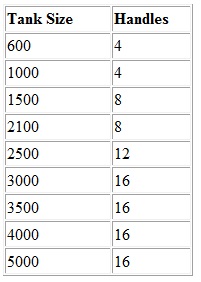 Fol-Da-Tank Shipping & Return Details: On arrival, inspect the shipment immediately for obvious signs of damage. If any item is damaged to the point that you do not want the product, do NOT sign for the shipment and do NOT take possession of the product. The freight carrier will then be responsible for returning the product back to the factory, and we will arrange a replacement product to be sent back out. When you sign for a shipment you are
signing that it is in good condition and you accept the shipment.
This will relieve the freight carrier of any claims!
Should you determine that any items are missing, you MUST note the missing items on the delivery ticket and contact
Customer Service
to report any issues. You should open cartons and containers. If there is the slightest doubt that the merchandise is damaged (concealed or not) refuse the shipment and do not sign for delivery.
Product Returns
All returns must be within 60 days of receiving the product.
A 30% restocking fee and return freight costs will apply.
To return an order, please contact
Customer Service
to obtain a Return Authorization number (RA). Unfortunately we can not accept or credit any returned product without an RA number. Please note that all freight charges will be the responsibility of the customer and return freight must be prepaid. Returned products must be in original packaging, unused and in sellable condition. If the product is returned in unsellable condition, we will not issue a refund.
Freight costs on all items being returned will be at the expense of the customer. All items should be shipped FREIGHT PREPAID to the nearest return location. Item(s) must be returned within sixty (60) days of the delivery date to be eligible for reimbursement consideration. TankAndBarrel.com is not responsible for the cost of packaging, shipping, or returning the item(s) if the applicant changes his or her mind after item(s) are in transit back to the manufacturer or has already been received by the manufacturer.
Upon receiving the product in new condition and undamaged, we will refund you the purchase price of the product minus the 30% restocking fee and actual freight charges from the original shipment to you.
Cancellations
Because your custom order is built to your exact specifications, and a down payment is required to start the build process, ALL orders cannot be cancelled. The only exception being if the item has yet to enter production. Please carefully review all specifics regarding your product prior to submitting.

Fol-Da-Tank Warranty Details: We warranty FOL-DA-TANK Co. products to meet generally recognized standards of quality and excellence in the trade for goods of their type and kind. Should the heat sealed seams on a portable tank liner or the welds on a frame become defective FOL-DA-TANK Co. offers a LIFETIME WARRANTY replacement upon the return for inspection. Fol-Da-Tank liners and self supporting tanks purchased prior to 2006 we will repair at no charge, however the customer will be responsible for freight charges each way. A 3 year warranty applies to all strainers and accessories. We reserve the right of requiring the return of defective parts or tanks, transportation and insurance be prepaid, before a claim is recognized. Upon customers proof of delivery our warranty will be in effect. Misuse or abuse will automatically void this warranty. From 2011 to present look for your warranty stencil on all Fol-Da-Tank liners and self supporting tanks for proof of purchase.