This Fire Department model 3000 gallon self-supporting portable water tank meets the most stringent requirements when storage and manpower are at a premium. (NFPA 1142 Compliant, GSA Approved).
The self-supporting frameless portable water tanks have been designed to meet the most stringent requirements of rural/urban fire fighting. Problems with inadequate or unusable supplies of water are eliminated by the use of open top self-supporting portable water tanks. In remote areas the self-supporting tanks are designed for standby water containment, water shuttling situations and provide a continuous portable water supply. In remote areas, the SST may be filled by pumping water from a natural water source, such as a stream or creek, with a small gas operated pump. As the self-supporting tank begins to fill with water, its unique design allows it to become self supporting automatically. The SST does not require any additional supporting framework, assembly, or frame installation. Easy lift grab handles are placed evenly around the base of the tank for easy set up. Fol-Da-Tanks new HPR High Performance Rubber is a proprietary formulated fabric to replace Hypalon. Now get the proven high performance fabric used in your Fol-Da-Tanks in your self-supporting tanks! When choosing quality & dependable fabrics choose Fol-Da-Tank HPR.
Applications:
Fire Fighting
Water Relay
Water Storage
Mixing Tank (Fire retardant)
Hazardous Waste
Features:
Totally Self-Supporting - No frame work - No assembly
No foot pump necessary
Heavy duty vinyl (PVC)
All seams welded for longer life
Unique Ethafoam collar - No need to inflate
Onion and Pumpkin style design
Easy lift grab handles are placed evenly around the base of the tank for easy set up
4 grab handles spaced evenly around the tank
Compact storage bag included
All self-supporting tanks are supplied with one threaded flange coupling installed
Any number and size of hose connections can be added for bottom drafting
22 oz. PVC sides and 30 oz. PVC floors
All 30 oz. PVC
6,000 - 20,000 tanks are made from 35 oz. or 40. high tear strength UV resistant vinyl with 2" welded heat sealed seams.
22 oz. HPR is now available for a great all around performing liner fabric.
All self supporting tanks come with 1 - all aluminum flange 1.5" - 6.0" male or female and protective flap.
Special lettering available
Lifetime warranty on fabric seams.
Couplings available: NST*, NPSH*, Storz, Cam* and custom threads*
*Indicates male or female connections available
Standard coupling is NST. Contact us for NPSH/IPT, Storz, Cam or other custom threads.
Available Colors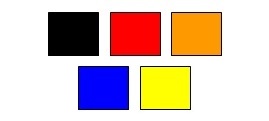 Detailed Information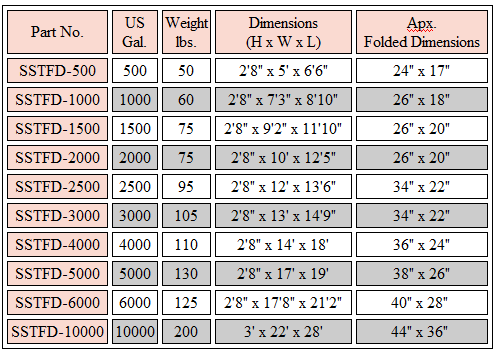 Fol-Da-Tank Shipping & Return Details: On arrival, inspect the shipment immediately for obvious signs of damage. If any item is damaged to the point that you do not want the product, do NOT sign for the shipment and do NOT take possession of the product. The freight carrier will then be responsible for returning the product back to the factory, and we will arrange a replacement product to be sent back out. When you sign for a shipment you are
signing that it is in good condition and you accept the shipment.
This will relieve the freight carrier of any claims!
Should you determine that any items are missing, you MUST note the missing items on the delivery ticket and contact
Customer Service
to report any issues. You should open cartons and containers. If there is the slightest doubt that the merchandise is damaged (concealed or not) refuse the shipment and do not sign for delivery.
Product Returns
All returns must be within 60 days of receiving the product.
A 30% restocking fee and return freight costs will apply.
To return an order, please contact
Customer Service
to obtain a Return Authorization number (RA). Unfortunately we can not accept or credit any returned product without an RA number. Please note that all freight charges will be the responsibility of the customer and return freight must be prepaid. Returned products must be in original packaging, unused and in sellable condition. If the product is returned in unsellable condition, we will not issue a refund.
Freight costs on all items being returned will be at the expense of the customer. All items should be shipped FREIGHT PREPAID to the nearest return location. Item(s) must be returned within sixty (60) days of the delivery date to be eligible for reimbursement consideration. TankAndBarrel.com is not responsible for the cost of packaging, shipping, or returning the item(s) if the applicant changes his or her mind after item(s) are in transit back to the manufacturer or has already been received by the manufacturer.
Upon receiving the product in new condition and undamaged, we will refund you the purchase price of the product minus the 30% restocking fee and actual freight charges from the original shipment to you.
Cancellations
Because your custom order is built to your exact specifications, and a down payment is required to start the build process, ALL orders cannot be cancelled. The only exception being if the item has yet to enter production. Please carefully review all specifics regarding your product prior to submitting.

Fol-Da-Tank Warranty Details: We warranty FOL-DA-TANK Co. products to meet generally recognized standards of quality and excellence in the trade for goods of their type and kind. Should the heat sealed seams on a portable tank liner or the welds on a frame become defective FOL-DA-TANK Co. offers a LIFETIME WARRANTY replacement upon the return for inspection. Fol-Da-Tank liners and self supporting tanks purchased prior to 2006 we will repair at no charge, however the customer will be responsible for freight charges each way. A 3 year warranty applies to all strainers and accessories. We reserve the right of requiring the return of defective parts or tanks, transportation and insurance be prepaid, before a claim is recognized. Upon customers proof of delivery our warranty will be in effect. Misuse or abuse will automatically void this warranty. From 2011 to present look for your warranty stencil on all Fol-Da-Tank liners and self supporting tanks for proof of purchase.